Winter's Respite Read-a-thon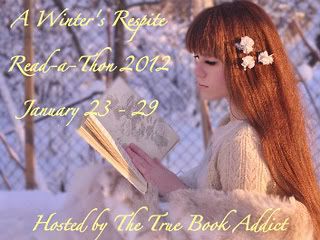 I'm a little behind on this, but here's my wrap-up post for the
Winter's Respite Read-a-Thon
hosted by
The True Book Addict
. My goals were to finish the three books I was currently reading (
A Personal Matter
,
A Charmed Death
, and
A Mid-Summer Night's Dream
and to start
1Q84
. I accomplished none of those goals. I did, however, read
The Second Duchess
.
All in all, I'm a little disappointed that I wasn't more on the ball with the challenge, but last week was a little hectic and so my entire schedule was thrown off. That said, I'm glad I did the read-a-thon and look forward to doing more in the future. Next time, I definitely want to set aside time to read every day, as opposed to "I'll read when I read." I'd also like to pay more attention to mini-challenges and Twitter, since I was really looking forward to the social interaction aspect of the challenge.